SPINAL DECOMPRESSION THERAPY
The Triton decompression/traction device used in our office provides a treatment in static, intermittent and cyclic distraction forces to relieve pressure on structures that may be causing pain of skeletal or muscular origin (cervical, thoracic, lumbar, hip, wrist, shoulder). Therapeutic distraction can be applied in a variety of programmable patterns, cycles and functions.
The device may be used to relieve peripheral radiation/sciatica and pain associated with:

Protruding discs
Spinal root impingement
Radicular pain
Bulging discs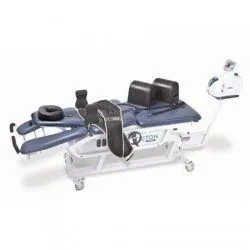 Hypomobility
Discogenic pain
Herniated discs
Degenerative joint disease
Prolapsed discs
Degenerative disc disease
Facet syndrome
Acute facet problems
Posterior facet syndrome
Compression fracture
The decompression device achieves these effects through mechanical traction of intervertebral discs, that is, unloading due to distraction and positioning.
How is Spinal Decompression Therapy different from regular traction?
The computer is the key. It controls the variations in the traction pull allowing for spinal decompression and eliminating muscle guarding that is typical in conventional traction devices. The preprogrammed patterns for ramping up and down the amount of axial distraction allows for higher levels of spinal decompression and disc rehydration.
Are there conditions where Spinal Decompression Therapy is not indicated?
There are actually a few reasons that we must exclude a patient from spinal decompression treatment. These include:
Active spinal cancer or infection

Severe osteoporosis (sufficient to cause serious risk of spinal fracture)

Spinal instability

Pregnancy

Metal or other surgical implantation in the area of the spine to be treated
How does Decompression Therapy work?
Spinal decompresion therapy is a non-surgical, traction-based treatment that uses a computerized guided pulley system to cycle through distraction and relaxation phases to gently spearate the bones of the spine. A specific spinal segment can be isolated and placed under a negative pressure gradient, causing a vacuum effect within the disc. The disc material that has protruded or herniated outside the normal confines of the disc can be pulled back within the disc, thus taking pressure off the surrounding pain sensitive nerves. In addition to relieving nerve irritation, decompression therapy increases circulation to the disc which stimulates healing within the injured tissues.
Our system offers additional options that many of the other systems do not. In addition to lumbar traction, our system is also capable of performing cervical decompression traction.
How long is a typical treatment?
A typical treatment session for decompression therapy is approximately 20-30 minutes depending on each patient's condition. In almost all cases, the treatments are completely painless. In fact, some patients fall asleep during their spinal decompression sessions. We make every effort to make you comfortable during your sessions.
Treatment time differs for each patient due to their condition and the severity of the condition, so your number of treatments may vary.